Szczegóły

Kategoria: Informacje
Porównanie i moje przemyślenia na temat sworzni dwóch rożnych producentów Yamato i 555.
Sworzeń o którym mowa mocuje zwrotnicę do górnego wahacza. Jest dokładnie identyczny dla Terrano 1 i 2 oraz Pickupa D21. Jest to element nr 40 na rysunku poniżej. (źródło www.nissan4u.com)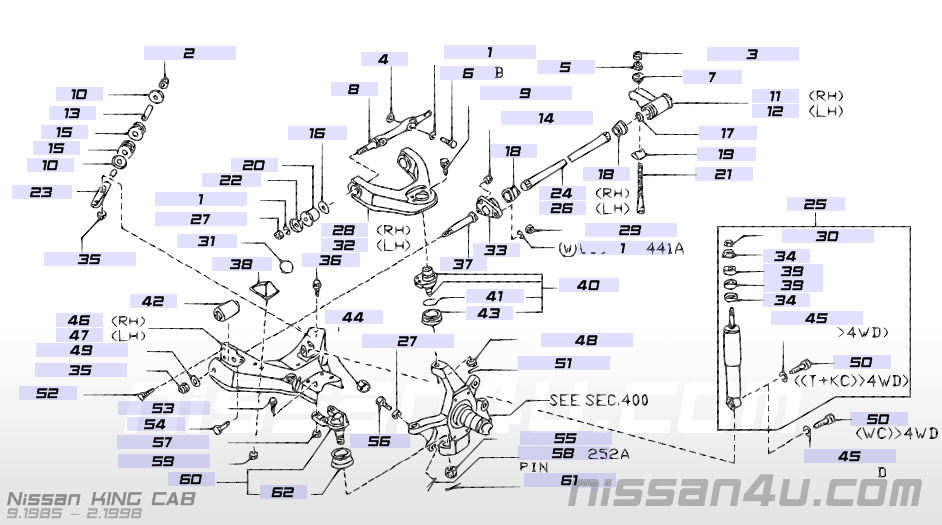 Sworznie prezentują się tak:
Na pierwszy rzut oka już widać że sworznie znacznie różnią się budową wręcz jest kompletnie inne podejście do zagania.
Sworzeń YAMATO J21000YMT ma trzpień z kulą sworznia montowany od dołu, natomiast 555 J21000 od góry, co wydaje się być bezpieczniejszym rozwiązaniem gdyby miejmy nadzieję że nie .. doszło do poważnej awarii i by sworzeń się rozleciał. Ze sworzniem 555 dostajemy w zestawie śruby do mocowania z wahaczem, natomiast przy Yamato jest ich tak zwany brak. Od strony zwrotnicy Yamato oferuje nakrętkę samo-zabezpieczającą z wkładka z tworzywa, natomiast piątki tradycyjnie nakrętkę koronową z zawleczką. Sworznie trzech piątek mają od góry kalamitkę lub śrubę - korek dzięki czemu mogą być napełnione smarem.
Jednak to co mnie zaskakuje to, że sworzeń Yamato wygląda jakby miał być mocowany nad wahaczem a nie od dołu. Czemu? Dlatego, że dookoła otworów gwintowanych są wystające około 1mm w górę powierzchnie i po dokręceniu do wahacza tylko to jest miejscem styku z nim. Natomiast większość sworzni które mają wykonanie jak 555 będą się stykały całą powierzchnią z wahaczem.
Co wybrać jak zwykle opinie podzielone, trudno powiedzieć które dłużej wytrzymają. Część osób się skarży ze 555 się rozlatują inni je zachwalają. Ja raczej jestem za 555 ale tylko dla tego że w Yamato nie ma kalamitki i że nie przylega całą powierzchnią do wahacza. I to moim zdaniem wyklucza Yamato z użycia z duralowymi dystansami do liftu.